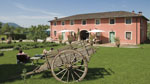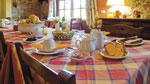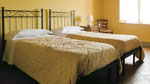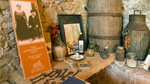 "Al Podere di Rosa" is a farmhouse that extends on over 8 hectares that are grown to vineyards, olive grove and typical vegetables of lucchese agriculture.
It is placed on the hills in S. Alessio, to 4 km. From Lucca, with a fine view, in Pieve S. Stefano that is on the route of "Strada del vino" (Road of the Wine).

Recently it has been carried out the restructure of the ancient farmhouse, that has preserved the rural atmosphere of the origin. Seven bedrooms with private bath have been realized and rooms that guests can use in common: reception, reading and relaxing room, kitchen with oven for breakfasts prepared by Caterina. The furniture of every room is up with the rural style from Lucca.
Old and ancient tools for the working of wine and fields are exposed in the common area.

The conduction of the farmhouse is familiar and it is carried out by Paolo and his wife Caterina. The hospitality that they offer is simple but very warm and confortable. The guests can spend quite holidays with pleasant walks in the outskirts rich of forests, ancient villas and farmhouses. You can rent a mountain bikes for trips in the surrounding or reach the close "Parco Fluviale" (River Park). It is offered the possibility to buy the country products of the farmhouse: wine, oil, vegetables.